The area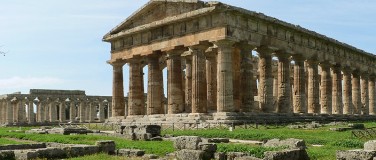 The restaurant "Pasquale in the Sea" is located in the center of a territory full of historical, landscape and gastronomic beauty. It is in fact a few tens of meters from the archaeological site of Paestum, the charming Greek city which is one of the most popular complexes in the world. The integrity of the temples, among the best preserved Magna Graecia, the richness of the Museum, which exhibits the metopes of the destroyed Heraion temple of Foce Sele and the rarity of finds (sheet of the Tomb of the Diver) give one the ancient Poseidonia timeless splendor.
The structure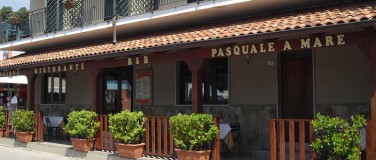 The Pasquale a Mare Restaurant, with an exclusively familiar management, has two carefully furnished rooms: the speciality are the sea ones, obviously. In particular way the famous "Spaghetti alla Pasquale" and "Cuttlefish alla Pasquale" are advised.. .The kitchen gives value to every speciality of the place and makes precious it. Cilento and Sele Piana show a great gastronomic variety. For example the buffalo mozzarella DOP, a real table queen, and the famous Paestum artichoke…
The rooms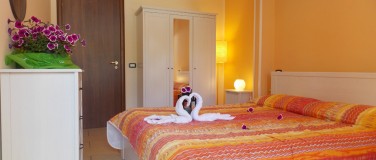 The "Pasquale a mare" Restaurant Pizzeria is built about 200 mt. from the Paestum archaeological site, one of the Campania pearls and World Human Heritage. The structure is large and cosy. Rooms style and decorations recall in an elegant way the typical architecture of the Magna Graecia. The results are a very suggestive dive in the lost environment of gone time. "Pasquale a mare" represents the ideal solution for those who want to choose a very relaxed holyday, but a cultural one, for his position that is the envy between the sea and the history. Around the structure, infact, you can find the Archaeological Museum, in which one of the few tomb painting made in a Greek way, the famous Tuffatore Tomb (reproduced in the restaurant too) is preserved, the so named Heraion, the tempie dedicated to Hera Argiva on the Sele River mouth, the Madonna del Granato Sanctuary. . .Finally, in a littie waste of time, you can reach the most important Campania touristand cultural places like: Pompei, Neaples, The Padula Certosa in the North, Velia and the seaside localities Palinuro and Camerota in the South.