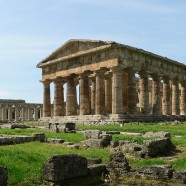 PAESTUM: South of Salerno, on the Sele plain, there's the wonderful Greek town of Poseidonia, one of the most suggestive archaeological areas of the Campania Region. It has three Doric temples immersed in nature and surrounded by powerful walls. Close to the ruins, the Archaeological Museum of Paestum houses important findings from the Greek-Roman town. Among them, there's the Tomb of the Diver: it's the only one existing wall painting of the Greek age.
AGROPOLI: it is a few kms south of Paestum and is considered the Cilento National Park entrance: a long, panoramic flight of steps leads to the old town, situated on a scenic promontory, from which there is a view of the touristic port and of the whole Bay of Salerno.
VELIA: Along the coast there is the Archaelogical Park of Elea-Velia, the Greek town where the philosophers Parmenide and Zenone were born. Immersed in nature are the ruins, the theatre and the Porta Rosa (Pink Door), the oldest Greek arch existing. The walk to the high town, among the colours and the scents of the Mediterranean vegetation, is wonderful.
COSTIERA AMALFITANA:This coast stretches in the south side of the Sorrento's peninsula: it is one of the most beautiful in Italy, made up of amazing cliffs and a rich vegetation. The villages of the Amalfi Coast, named "the divine" by the ancient, are well known by international tourism since the XIX century, when intellectuals, writers, artists chose it as place of inspiration: Positano, Ravello, Amalfi, still exert their Mediterranean charm on worldwide visitors.
POMPEI: With three million visitors per year, Pompeii is the most visited archaeological site in the world: a whole town buried in 79 A.D. by an eruption of the Vesuvius. It's amazing walking in this ancient commercial town, to see its houses, shops, public buildings and to discover what everyday life looked like two thousand years ago.